Moveware Implementation
What is a Moveware Implementation?
A Moveware Implementation typically involves 1) an implementer (Moveware Staff), 2) a secondary implementor (to provide additional support if the primary implementer is unavailable), and 3) the Moveware Support Team (to handle the more technical aspects of the implementation such as document creation and system configuration).
The implementation process itself is designed to take you from initial data gathering and configuration of the system, to the final "Go Live" and using Moveware regularly in your average workday.
---
The Moveware Implementation Stages
Moveware implementations are divided in stages as per the diagram below. The time spent on each stage is dependent on many factors, including the size of your business, and the particular areas of the Moveware system that will be used. The stages are outlined in detail below.
---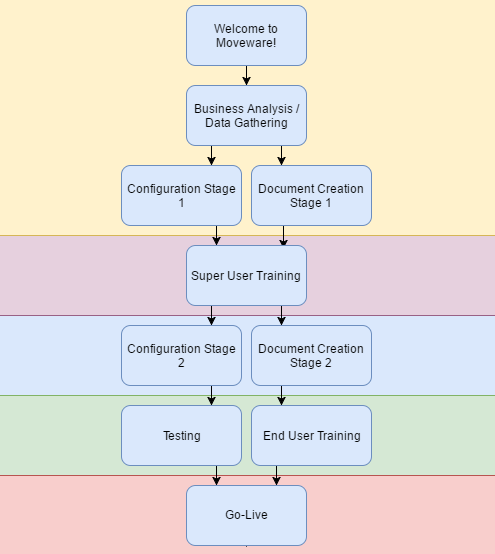 ---
Stage Breakdown
Business Analysis/Data Gathering
Before we start building your Moveware database, we need to obtain quite a bit of information from you and your colleagues, regarding your operations. We want to tailor Moveware to your business practices as much possible to make this transition easy for you. This will include a deep analysis of your business processes, as well as collecting samples of all your commonly-used documents and e-mails.
---
Configuration & Document Creation (Part 1/2)
Once we have all of the information and documents we require, we will begin base system configuration. We will configure the most important aspects of Moveware and create your documents using the templates provided.
---
Super User Training
Once we are ready to show you what we have been working on, we will begin by granting designated "super users" access to our online Moveware Training Portal.
The Moveware Training Portal includes videos, written content, and interactive assignments that are broken into steps to ensure a gradual familiarity and comfort within the Moveware system. The progress of super users can be monitored and tracked by the assigned implementor from within the Moveware Training Portal, and assignments can be submitted and reviewed by the implementer at every step of the way.
The purpose this training is to make sure several people in your organisation understand and know how to use the system. In addition, we will be seeking ongoing input from these "super users" on the configuration we have put together for you. With the feedback we receive, we can make the necessary changes towards a system that is as user friendly and functional as possible.
---
Configuration & Document Creation (Part 2/2)
This stage is where the real fine-tuning occurs. We will carefully apply the finishing touches to the configuration in preparation of the end-user training. Your super users will be very involved at this time, providing us with feedback on the changes, while improving upon their Moveware knowledge to prepare for the next stage.
---
Testing & End User Training
By this point, Moveware is fully configured, and your documents have been created. During this stage we will be working closely with your super users to coordinate training for your end users, and we will encourage your super users to provide this training themselves.
---
Go-Live
In our experience, we have often found that the process of 'going live' with Moveware, with all its bells and whistles, can be rather trying on both your end and ours. When "going live," it is unlikely that you will be using the full functionality of Moveware yet. Alternatively, we will be be progressively introducing more functionality and control to your system – this is called a "rolling go-live."
A rolling go-live is not uncommon in the software industry, and we believe it is the best way to implement Moveware. It will be essential that Sales & Surveying, Move Management, Import/Export, Operational Scheduling, Workload Management, Invoicing, and Customer/Supplier/Agent Management is fully operational and used daily by your organisation. We will be on-site at your offices to provide several days of support during this exciting and challenging period.
After this, we will offer some remote training sessions to enable you to use some of the more advanced areas of the system. We will also make the necessary adjustments to the database and documents in response to user feedback. This will take place roughly 4 weeks after the initial Go-Live. At this stage, we will also get you started in areas like Claims Management, Reporting, Destination Summary, Customs Registry, Labels, DSP, Advanced Contact Tab, Advanced Costing, Advanced Invoicing, Automatic Emails.
Finally, we will hand over control of Fleet Management, Advanced Operations, Rates/Tariffs, Move Transfer, KPI Diary Actions, Warehouse Management, Crating and Asset Management, where applicable.
Moveware will provide you with an Account Manager along with our 24-7 Support coverage to continue to assist you from this point onwards.